Company Profile
Welcome to TAIR CHU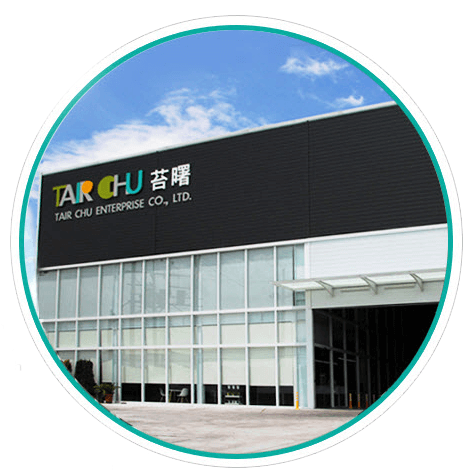 As a professional plastic injection moulding products manufacturer, Tair Chu provides not only in-housed design products such as plastic cutlery but also customized products for customers with big brand name around the world. To respond the market demand and improve quality control, Tair Chu has been certificated with ISO 22000 and HACCP since 2014.
Tair Chu Enterprise Co., Ltd. has strong background in the plastic injection industry.
Established in 1978, Tair Chu began from manufacturing plastic chair for domestic furniture distributors. Over the past fourty years, with good reputation in product quality, on-time delivery and promptness in customer service, Tair Chu accumulate solid experience in developing a variety of customized plastic products and countless customers in a varety of industries including food packaging, fitness equipment, home appliance, car accessory and electronic device.

In 2008, Tair Chu made decision to lower the reliance on non-food packaging products and set up the direction for long term product development in food packaging industry. Since then, we built all kinds of disposable plastic cutlery and disposable food containers for either general customers or brand customers. In order to meet customers' demand for production environment and HACCP standard, we have not only been continuously improving the processing procedures but also invested largely in production capacity and facility expansion.
In 2014, Tair Chu has relocated to our new factory building with dedicated clean room for the tableware production. Integrated product design, mould development, mass production, printing, packing and delivery, Tair Chu provide our customers one stop shop service to simplify their process. Our team also work closely with our clients to develop innovative product to satisfy customer 's demand at the retail level for creative and value-add products.

Look to the future, Tair Chu will keep embracing new technical challenge to help our customer fulfill their ideas and striving for sustainable development and our customer commitment, superior quality, on-time delivery and promptness in customer service based on the present foundation.
---
Core Value
A commitment to providing users the tools, packaging, or tableware to enrich their food experience.
---
Future Visions
To be customers' first choice when it comes to unique design or quality tableware.
To be customers' best solution when it comes to customized cutlery design.

As a professional plastic injection moulding products manufacturer, Tair Chu provides not only in-housed design products such as plastic cutlery but also customized products for customers with big brand name around the world. To respond the market demand and improve quality control, Tair Chu has been certificated with ISO 22000 and HACCP since 2014.

Tair Chu Enterprise Co., Ltd. has strong background in the plastic injection industry.

Established in 1978, Tair Chu began from manufacturing plastic chair for domestic furniture distributors. Over the past thirty five years, with good reputation in product quality, on-time delivery and promptness in customer service, Tair Chu accumulate solid experience in developing a variety of customized plastic products and countless customers in a varety of industries including food packaging, fitness equipment, home appliance, car accessory and electronic device.

In 2008, Tair Chu made decision to lower the reliance on non-food packaging products and set up the direction for long term product development in food packaging industry. Since then, we built all kinds of disposable plastic cutlery and disposable food containers for either general customers or brand customers. In order to meet customers' demand for production environment and HACCP standard, we have not only been continuously improving the processing procedures but also invested largely in production capacity and facility expansion.

In 2014, Tair Chu has relocated to our new factory building with dedicated clean room for the tableware production. Integrated product design, mould development, mass production, printing, packing and delivery, Tair Chu provide our customers one stop shop service to simplify their process. Our team also work closely with our clients to develop innovative product to satisfy customer 's demand at the retail level for creative and value-add products.

Look to the future, Tair Chu will keep embracing new technical challenge to help our customer fulfill their ideas and striving for sustainable development and our customer commitment, superior quality, on-time delivery and promptness in customer service based on the present foundation.

---

Core Value

A commitment to providing users the tools, packaging, or tableware to enrich their food experience.

---

Future Visions

To be customers' first choice when it comes to unique design or quality tableware.
To be customers' best solution when it comes to customized cutlery design.
To provide the working environment that our staff trust the people they work for, have pride and fun in what they do, and enjoy the people they work with.
To provide the working environment that can add value to our staff.





---

Environment