Using Eco friendly tableware and biodegradable cup doesn't mean making contribution to environment protection.
2018/12/5
Tair Chu
1. What is "Eco friendly tableware"?
In Taiwan, "Eco Friendly Tableware" usually means biodegradable cutlery, include PLA spoons, PLA forks, PLA knives, biodegradable cups and biodegradable bags.
2. What is biodegradable material?
In Taiwan, biodegradable material usually means Polyactic Acid(PLA), that is thermoplastic aliphatic polyester.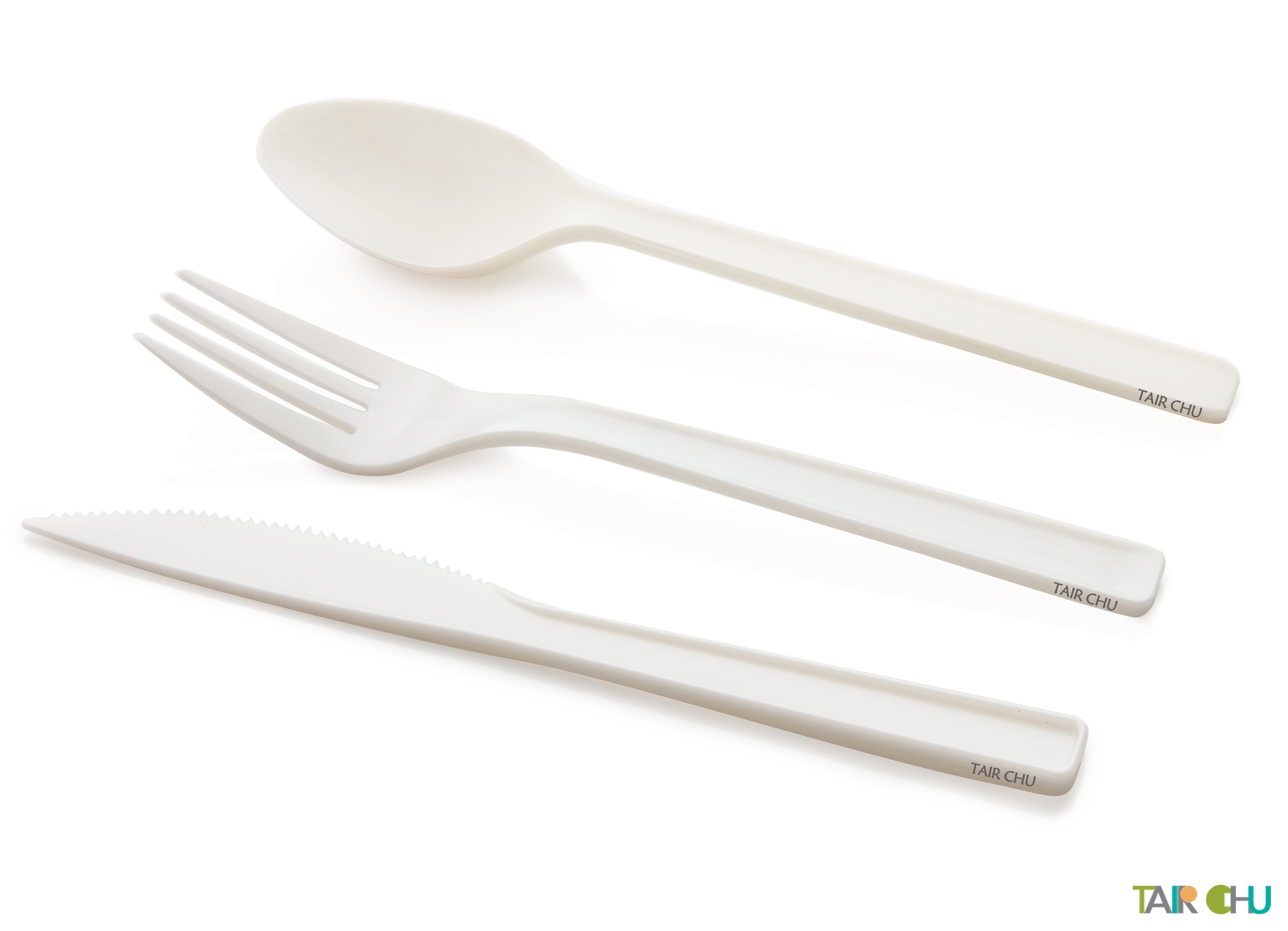 3. Are PLA cups and PLA cutlery plastic?
Yes, PLA cups and PLA cutlery are plastic, even though PLA resins are made from corn starch.

4. How to distinguish PLA cups, PLA cutlery from common plastic products?
It's hard to tell the difference from the appearance between PLA products and common plastic products. Recycle symbols is a good reference. Recycle symbol 7 with PLA means PLA. Recycle symbol 5 is PP. Recycle symbol 6 is PS. And recycle symbol 1 is PET.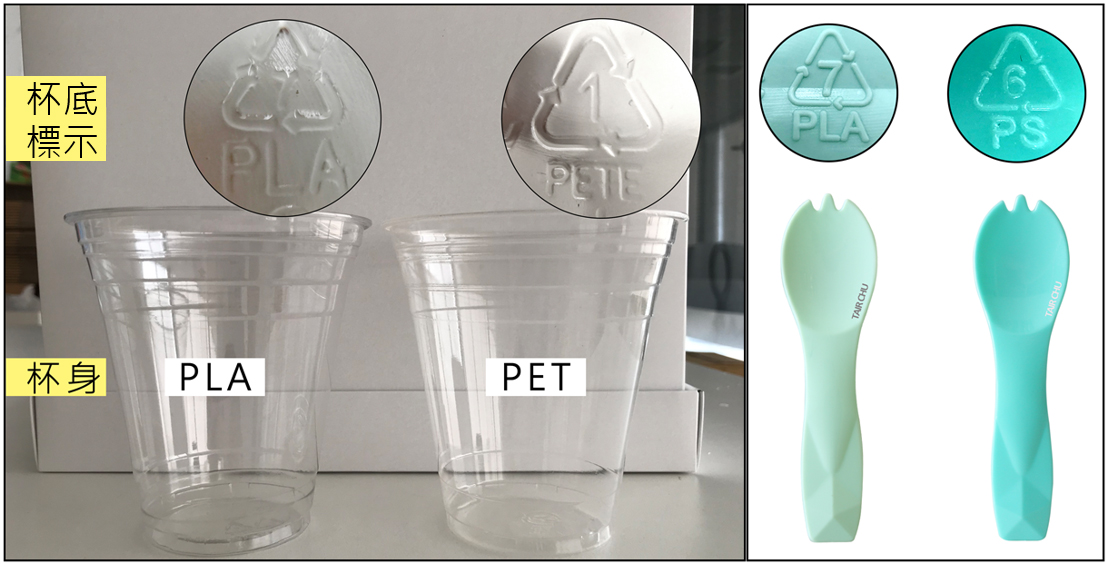 5. Where can you find PLA products in Taiwan?
You can find PLA cups at Starbucks or Macdonald in Taiwan. You also can find some PLA products at some local ice creams shops, coffee shops or bakery.
6. What is the difference between PLA product (include PLA cup, PLA tableware) and common plastic product (include common plastic cup and common plastic cutlery)?
PLA products' shelf life is usually about 1-2 years, and it is not heat-resisting materials (0°C~+55°C).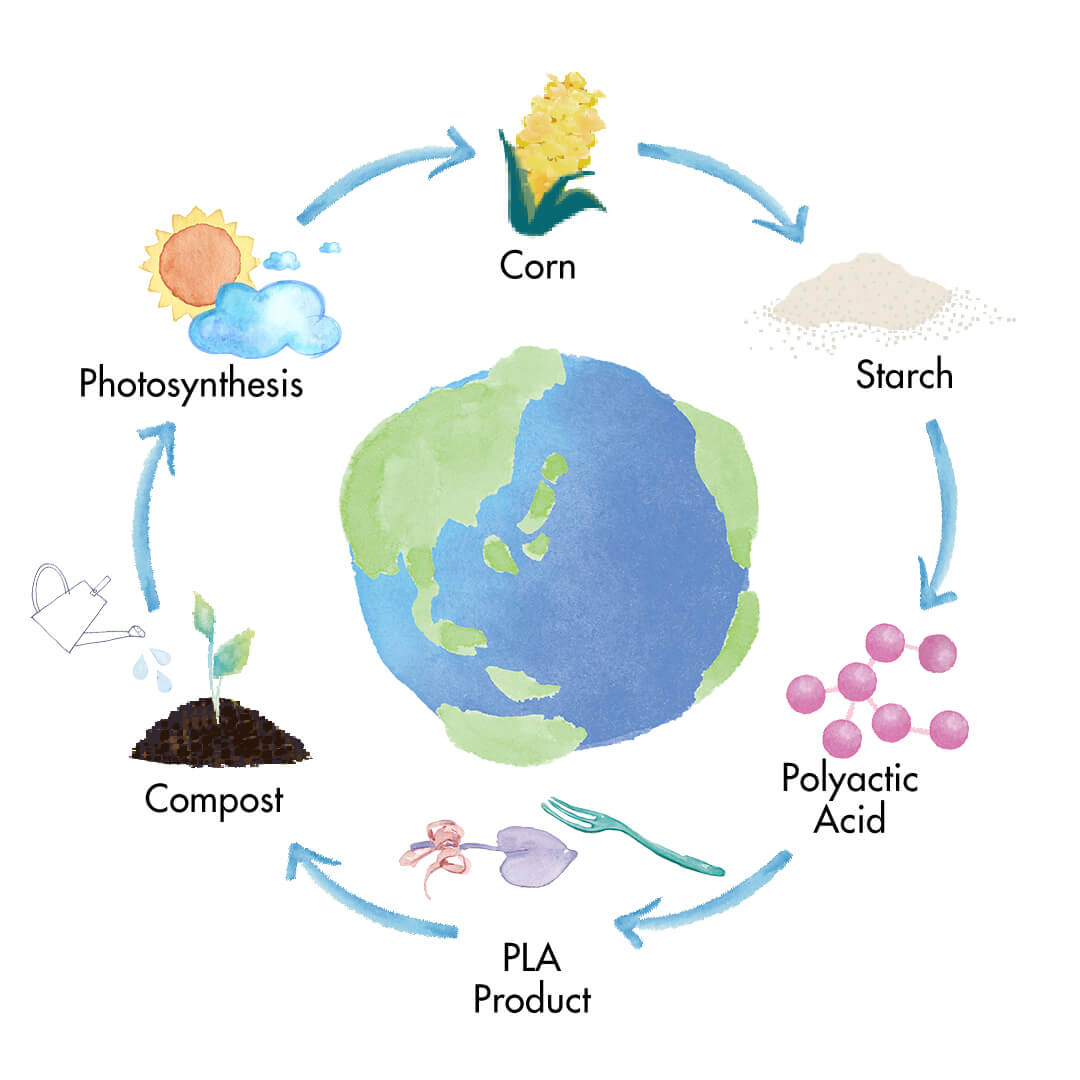 7. How to handle PLA waste?
If there is no recycle bin for compostable products, we recommend PLA cutlery and PLA cups should be thrown into trash bin. It is necessary for PLA products to be buried in the dedicated landing to make composting process happen. However, in Taiwan and many countries, the industrial landfills are absent. According to BPI website (https://bpiworld.org/Planning-Guide), PLA products should be thrown into trash if you don't have environment for composting, put PLA waste into trash.
8. Are PLA cutlery and PLA cups biodegraded underground in our home yards or in the sea? No, PLA cutlery and PLA cups are not biodegraded in the sea or underground. (1) aerobic soil (2) microorganisms existing (3) high relative humidity (4) above 50 degrees centigrade are all necessary for biodegrading process. These conditions, however, don't exist in our home yard or sea.
9. Does PLA tableware, PLA cups, and PLA straws become fragmented mean biodegraded?
No, they are still plastic. PLA would be biodegraded only the above four conditions are met.
Reference-
Ref 1: Biodegradable Products Institute.
https://bpiworld.org
Ref 2: ASTM International
https://www.astm.org/Standards/D6400.htm
Ref 3: Situ Biosciences LLC
http://www.situbiosciences.com/biodegradation/astm-d6400-biodegradation-test-composting/